FlexTix are a great package the University put together this year for games. They're a booklet of 10 coupons redeemable at the door for individual game tickets. Use them yourself to go to 10 games, bring a group of 10 to one game, or whatever combination you choose.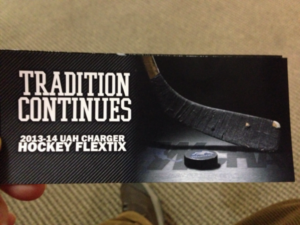 Does that sound good to you? Normally they're $99, but starting today, you could set yourself up for getting a set for free. Check out our new Contests page for details.
Talbot to start Thursday: With Henrik Lundqvist hurt, former UAH goaltender Cameron Talbot will get the start in net for the New York Rangers on Thursday in Philadelphia. This will be Talbot's first NHL action, and he'll become the first Charger to get a start in the big leagues. He'll join Jared Ross as the only two Chargers to play in the NHL.
Coincidentally, one of the Flyers he'll be facing is ex-Bemidji State forward Matt Read.
Coaches' luncheon: We've all enjoyed the coaches' luncheons in the past, and they're back for another season.  They'll happen on Fridays at noon in the Varsity Room in Spragins Hall on the UAH campus.  The Varsity Room is down the hallway to the left after you pass through the lobby.
Tickets are $8 at the door. This week, Bemidji State coach Tom Serratore will be our guest, and UAH coach Mike Corbett will discuss the state of the program.
In the booth: We of course prefer you join us at the games, but if by chance you can't, you can watch the Chargers on WCHA TV on America One Sports. UAHHockey.com's Geof Morris is back on the mike, provide color commentary along with Chris Davis's on play-by-play.
Geof will also be on Penalty Box Radio tonight around 9:45 p.m. CT. The show starts at 9.
Friday's trivia contest hint: It's been five years since the last time a Charger scored a hat trick.