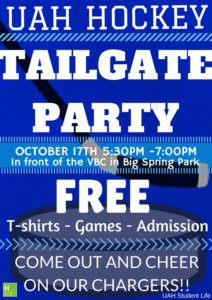 Friday night could be big for the Chargers as they open the home season against Bowling Green. Here's a rundown of the events and promotions for Opening Night:
Tailgate party: Downtown Huntsville will have its final Street Food Festival of the year with a tailgate party at the corner of Church Street and the Von Braun Center. Admission for the party, which starts at 5:30 and lasts up until the 7 p.m. face-off, is free.
Alumni night: All UAH alumni and their families get free general admission with a UAH Alumni Association card presented at the ticket booth. If you need a card, call the Alumni Association at 256-824-6549 or email alumni@uah.edu to get one.
Kids 12 and under get in free to all 16 home games this season courtesy of Huntsville International Airport.
Trading cards: The first 500 fans will receive a set of UAH Charger hockey trading cards.
At Saturday night's game (also at 7 p.m.), the first 500 fans receive free schedule posters and magnets.
Blue Line Club luncheon: Before every home series, come meet and greet with the coaches at the Blue Line Club luncheon. This Friday at noon at the Varisty Room, Bowling Green head coach Chris Bergeron and UAH head coach Mike Corbett will speak, as well as WCHA commissioner Bill Robertson.
Terranova's is catering. Tickets are $8 at the door, and free for Blue Line Club members.
We got votes? Despite the 0-2 start — and only two wins in the last 49 games — UAH got eight votes (or is it points?) in the first in-season USCHO.com national poll. We are befuddled as to why this would be, besides likely voter error. If the poll wasn't questionable enough, 44 of the 59 Division I teams got votes in a poll that voters are supposed to select a top 20.
Stat packs: From the last series at Colorado College:
The Chargers killed 11 of 12 penalties. It's a great start for a club that last season was dead last in the country with opponents scoring 29.5 percent of the time with a man advantage.
All five goals the Chargers scored came in the second period. All three goals scored on Saturday came from defensemen (two by Brandon Carlson, one by Frank Misuraca).
Saturday's rally from a 3-0 down was the first time the Chargers came back from a three-goal deficit to tie since October 29, 2010 at Michigan State. UAH tied the Spartans 4-4 after being down 4-1.
Around the WCHA:
Bemidji State went into Grand Forks on Friday and stunned then-No. 2 North Dakota 5-1. Brendan Harms scored two goals in the first half of the game, and then the Beavers rolled with three goals in the final 4:14 of the second period to open a 5-0 lead. North Dakota beat the Beavers 2-1 on Saturday in Bemidji.
Both Alaska and Alaska-Anchorage won their games in Anchorage's Kendall Hockey Classic, both taking out No. 10 Wisconsin and Maine. The Alaska Nanooks, now ranked 19th, won the Classic on the final tiebreaker of goals allowed (2). Next up is the Alaska Goal Rush in Fairbanks, where both Alaska schools will face Penn State and Air Force.
No. 13 Minnesota State went to Nebraska-Omaha and split a two-game set. The MSU Mavericks lost Friday night 5-3 before rebounding to beat the UNO Mavericks 4-2.
In the battle of Ohio, Bowling Green and No. 11 Miami split a home-and-home series. Kevin Dufour scored twice as the Falcons won at home 3-2 on Friday, and Dufour scored another Sunday in a 3-2 loss at Miami.
Lake Superior State fell to 0-4 after being swept at Robert Morris.