by Asher Kitchings
With junior hockey seasons set to begin, here's a rundown on UAH's current commitments: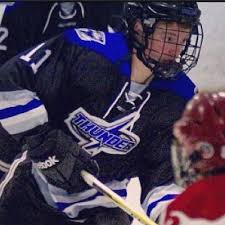 Aidan Flynn (6'0″, 155 lbs., forward from Spring Hill, TN): Flynn, born in 2002, is one of, if not the, youngest commit to UAH ever. He led his TPH Thunder U14 AAA team last season with 67 points in 57 games, and was the sole skater from that team to be selected for TPH's U16 squad this year. At only 15 years of age, he's already on NTDP, USHL, and OHL scouts' radars. His combination of size, skating ability, and two-way play gives him a projectable upside that few in his age group possess. If he has a strong season, an invite to the vaunted NTDP Final 40 Camp is not out of the question. For those of you that don't know, the United States NTDP (National Team Development Program) is the country's premier training ground for elite U.S. hockey players at the U-17 and U-18 levels. The two teams are based out of Plymouth, Michigan, and play a schedule that includes USHL teams, NCAA Division I teams, and international competition. Its alumni include NHL superstars like Patrick Kane, Auston Matthews, Jack Eichel, Seth Jones, James van Riemsdyk, etc. UAH has never had a recruit who played for the NTDP. A commitment from a player of Flynn's caliber and youth is a very positive signal for the program's future.
Pretty big pickup for UAH to land a 16-year-old with upside. Typically they're active later in the junior hockey cycle. https://t.co/b511O3t5jk

— Priority Selection (@PrioritySelect) September 26, 2017
3.5 star prospect Aidan Flynn commits to @uahhockey. The Tennessee native earned "B-" at World Selects & Select 15's. Size, compete, 2way https://t.co/p3BuWyhBpz

— Neutral Zone (@_Neutral_Zone) September 26, 2017
Bauer Neudecker (5'8″, 194 lbs., forward from St. Louis Park, MN): With one of the best names in all of hockey, the 2016-2017 Mr. Hockey finalist for the State of Minnesota recently cracked the 30-man roster for the USHL's Dubuque Fighting Saints. His speed, versatility, and playmaking abilities will give him a great chance to stick with a squad that is perennial contender in the U.S.'s top junior circuit. I expect him to compete for a top-six role given the numbers he put up last season with his high school team (35 games/39 goals/34 assists/73 pts.) and with the Fairbanks Ice Dogs in the NAHL after his high school season ended (11/5/4/9). In the event he's cut from Dubuque when they trim their roster to the league-mandated 23 (doubtful), he'll probably head back to Fairbanks where he'll be counted on to be one of the team's top point producers. Regardless of where he ends up this season, his ability to pile up points will determine whether he heads to Huntsville in 2018-19 or 2019-20.
Hank Sorenson (6'1″, 190 lbs., defenseman from Plymouth, MN): The gritty, hard-nosed defenseman will be back with the Waterloo Blackhawks in the USHL this season. He's the top returning rearguard for legendary Waterloo coach P.K. O'Handley after putting up a solid 41/4/10/14 slash line for him last season. He'll undoubtedly be relied upon to play top-four minutes. From everything I've seen, he appears to be a lock in the 2018-2019 freshmen class. If he continues to develop, UAH may have to fend off other programs for his signature. Sorensen is one to watch closely throughout the season.
Tyr Thompson (6'0″, 185 lbs., forward from Sherwood Park, Alberta): Tyr, the son of one of the top up-and-coming coaches in North America, Rocky Thompson, was just traded from the team he played for the past two seasons, the Olds Grizzlys, to the Whitecourt Wolverines (both of the AJHL). He'll be one of Whitecourt's top forwards having played at an almost point-per-game pace last season. Like Neudecker, he's a versatile playmaker that can be used in a variety roles up and down the lineup. I believe Tyr will be on campus for the 2018-2019 season barring something crazy happening.
Joey Baez (5'8″, 165 lbs., forward from Tampa, FL): The second-youngest of all UAH commits, Baez will be making the jump to junior hockey this year with the Johnstown Tomahawks in the NAHL. After tearing it up for one of the top youth programs in the country, the York Skipjacks, this season will be an important one for Baez's development. He's a speedster who can score, and that's what he'll be expected to do at the next level. A solid season with Johnstown could see the Florida native get drafted by a USHL team to play at a higher level in 2018-2019. Even though he's not expected to be a Charger until 2019-20 at the earliest, he could be the most electrifying player currently committed when it is all said and done.
Peyton Francis (5'11″, 165 lbs., forward from Oakville, Ontario): Another forward in the Carleton Place-to-UAH pipeline, Francis will look to follow in the footsteps of former Carleton Place and current Charger forwards Jordan Larsen, Andrew Dodson, and Connor Merkley. Francis, a 1999-birthdate, was an affiliate player for Carleton Place last year, but should compete for top-six minutes this season. He's in a situation similar to Baez's in that he's not expected on campus for a couple more years. Nonetheless, I feel like he'll another guy that could develop into another solid recruit for Coach Corbett and his staff.
Ryland Mosley (5'10", 180 lbs., forward from Arnprior Ontario): Another young recruit (2000 birth year), Mosley is the most recent forward from the CPC to commit to UAH. This past summer, Mosley was drafted third overall by the North Bay Battalion in the OHL's inaugural Midget Draft, which was put in place to allow OHL teams to draft the best Ontario-born midget players that were not selected in its annual Priority Selection (featuring U15 players) the year before. Mosley is skilled forward with good speed and creativity who amassed 56 points in 45 games at the Ottawa region's highest level of youth hockey competition last year. He's currently tearing it up for CPC's second-tier team, and may find himself on the roster full-time later this season. In any event, he'll have a few more years to develop before he comes on campus, and it won't be a surprise to see him come south of the border to play more competitive hockey in the meantime.
Be on the lookout for commitments to the 2018-2019 freshmen class. We'll lose forwards Max McHugh, Josh Kestner, and Brennan Saulnier; defensemen Brandon Parker, Cody Champagne, and Richard Buri; and probably goaltender Jordan Uhelski. And with only one forward (Thompson) and one defensemen (Sorensen) definitely coming in, there could be a number of new commits here soon.