It was rough and tough, it was up and down, and it was three hours long, but the Chargers refused to leave Sault Ste. Marie empty-handed.
UAH earned two points in the WCHA standings after taking the shootout following a 1-1 tie at No. 18 Lake Superior State on Saturday.
The Chargers (4-19-1 overall, 4-11-1-1 WCHA) shook off Friday's 7-2 blowout loss, getting a stellar performance by goaltender Mark Sinclair, who made 36 saves over regulation and overtime.
Jesper Ohrvall had the only tally in the shootout, which went two rounds.
UAH nearly had the win over Lake Superior (14-6-2, 9-5-2-0), which had won seven straight. Madison Dunn put the Chargers up 1-0 with 9:32 left in the third period, but Brendan McKay knotted the game up for the Lakers with 1:57 remaining.
The Chargers remain in eighth place in the WCHA standings, four points clear of Ferris State, as they come home for next week's series against Alaska Anchorage.
The first period was nondescript until 25 seconds remaining, when things got chippy at the halfwall in the Laker zone.
Dayne Finnson's hit on Anthony Nellis into the boards resulted in the UAH freshman getting a five-minute contact-to-the-head major for elbowing and a game misconduct. Nellis, the Lakers' second-leading scorer, skated off on his own power but was taken back to the locker room.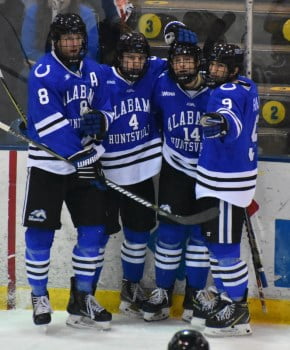 Lake Superior's major power play carried over into the second period, and the Lakers thought they had a goal off the goalpost, but it was immediately waved off because of a Diego Cuglietta interference penalty.
Nellis would return to action, and was part of a sequence with under five minutes remaining in the second where he had three straight shots in a span of about five seconds. Sinclair remained on point, however, using his blocker and gloves to keep the game scoreless through two.
Dunn finally broke the deadlock on the power play with his third goal of the season, assisted by Connor James and Jack Jeffers. Then McKay was the only one to beat Sinclair with 1:57 remaining in regulation.
It was a rough and tumble game for Sinclair all night. The Lakers tried many times to beat Sinclair high, and a few rang off his face mask. He appeared to take one puck off a shoulder, and in the extra 3-on-3 overtime, was shaken up when a collision with the goalpost after three players barreled into the UAH net.
But Sinclair remained in the game, and was able to hold off the Lakers for the rest of the extra overtime. Then, he made stops on Nellis and Pete Veillette in the sudden-death shootout.
Christian Rajic missed on the first round, but Ohrvall tucked the puck past Nick Kossoff (25 saves) to secure the second WCHA point for the Chargers.