Last season, there were plenty of freshman who got a taste of the college game. Now, even more rookies are here looking to turn things around in 2019-20.
The UAH hockey program took a step back in 2018-19 in terms of record (8-28-2) and is still looking for that jump up the WCHA standings. The Chargers finished eighth in the league last season and lost in the WCHA quarterfinals at Minnesota State.
UAH has 10 freshmen this season, more than the number of juniors and seniors combined (nine). Half of them earned 3.5-star ratings from recruiting site Neutral Zone, underlying the potential of this class.
"We've got a young group," Corbett said. "Just the short time we've been able to get on the ice, they've made a very good impression on me and to the rest of our staff and the rest of our team.
"I like their speed, and we've also added a little bit of size. We've got some guys in the 6-0 to 6-2 range that can get up and down the rink. That's going to be beneficial to us. There's guys who have played a lot of junior hockey who can not only contribute in college hockey but also be leaders for our team."
The Chargers hope to surprise some folks after being picked to finish ninth in the WCHA preseason coaches and media polls.
Here's a look at the 2019-20 UAH Chargers.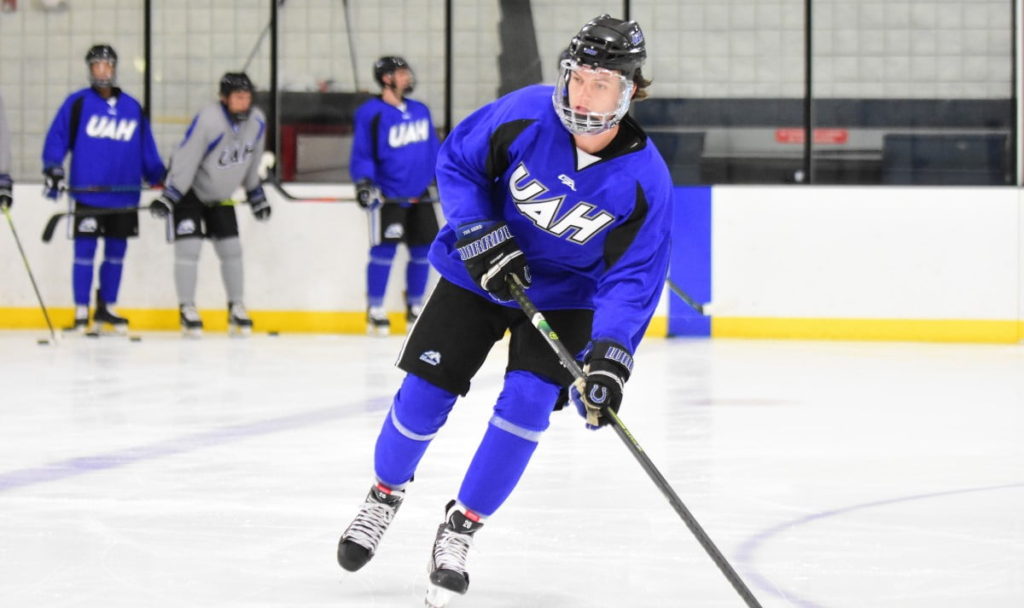 Forwards
Scoring was a bit of a struggle for the Chargers last season, particularly in the early going. UAH mustered only nine goals in the first 10 games on the way to a 1.76 average.
UAH eventually found a catalyst in Hans Gorowsky, who scored 12 goals, but he's now graduated. The top returning point scorers each had 14 points last season: Austin Beulieu, Christian Rajic, Jack Jeffers, and Bauer Neudecker.
"Those are the four guys that we're depending upon, along with our freshman group, to jumpstart our offense," Corbett said.
Beaulieu, a senior, had five goals and nine assists last season. He sees plenty of potential in this year's Charger offense, especially if they finish the chances they had trouble with last season.
"Everyone's had a good summer of training and working on their skills," Beaulieu said. "The freshmen have adjusted well so far in practice, and I think as the games come, they'll just get better with experience.
"For me, it's more being around the net and trying to finish my chances as well."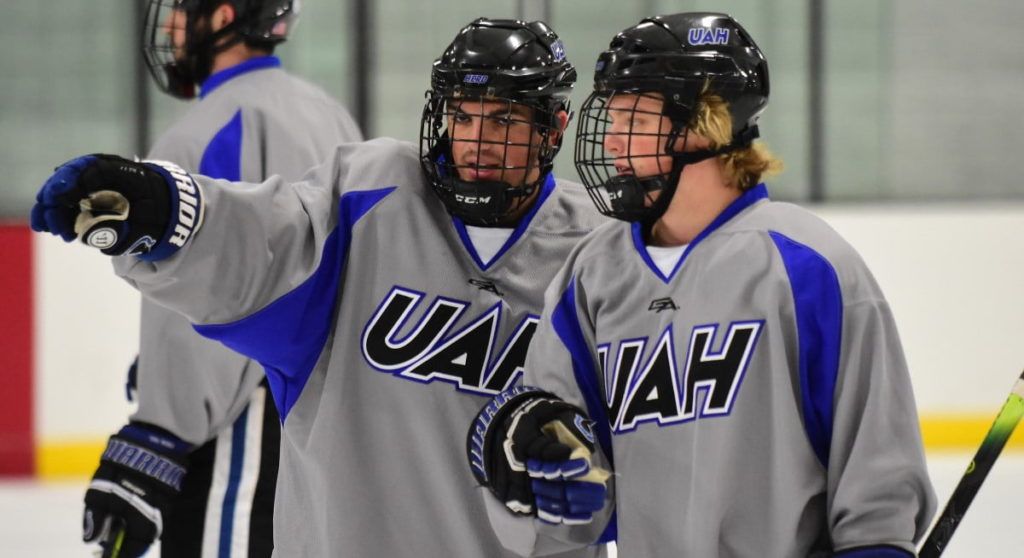 Jeffers and Neudecker, now sophomores, each had seven goals in their freshman campaigns.
"Jack's probably as talented as anybody in the league," Corbett said. "Now those guys all have a year or two under their belts and now we're going to ask them to really step up and be threats. The biggest thing is in order to score you've got to be a threat first."
Rajic, now a junior, was tied for the team lead with 11 assists last year.
Brandon Salerno is the only other senior forward, also chipping in five goals in 2018-19.
More returning juniors are Connor Merkley (three goals) and Connor Wood (two goals). Tyr Thompson and Ben Allen round out the returning sophomores.
UAH has five freshman forwards. Josh Latta scored 19 goals with Vernon of the BCHL, helping the Vipers reach the league finals.
The largest of the new class is Florida native Adrian Danchenko at 6-2, 185 pounds. He scored 15 goals for Wilkes-Barre/Scranton of the NAHL last season.
Liam Izyk (6-1, 180, 12 goals with Fort McMurray in the AJHL, Peyton Francis (6-1, 175, 24 goals for Carleton Place of the CCHL) and Daneel Lategan (6-1, 180, 20 goals for Langley of the BCHL) all bring added size to the front.
"We feel like we can pressure teams a little bit more now, and we're excited about that," Corbett said.
"They're all really good contributors on their teams, and we just expect them to come in and be good freshmen and contribute. We need those guys to chip in five goals, seven assists, things like that to just up our scoring. They'be been around and they know how to contribute to a team's success."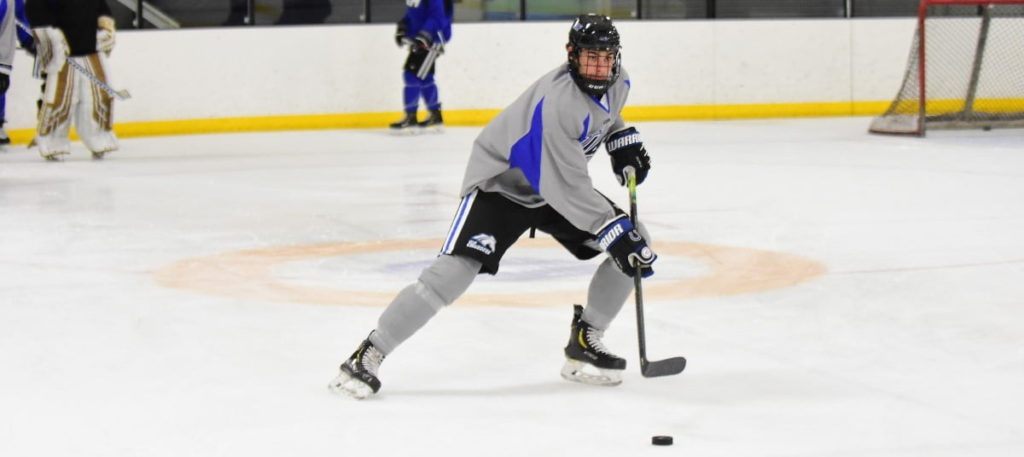 Defensemen
UAH will look to improve upon a scoring defense that was ranked ninth in the WCHA last season. The Chargers are hoping that added quickness will result in less laying back and more steals, facilitating a more aggressive offense.
"Just getting pucks quick, breaking out and being aggressive on the forecheck," sophomore defenseman Drew Lennon said. "We're really going to try and play faster this year."
Senior Connor James is the only returning defenseman who saw regular action last year. He scored four goals and blocked 37 shots.
"Connor is a slick little defenseman," Corbett said. "We're going to count on him to add some offense, and I think he can really pick up his game."
Two defensemen played all 38 games as freshman last season: Lennon and Bailey Newton.
"Lennon gained a ton of experience in all situations for us," Corbett said. "Bailey Newton is a tough guy, more of a rugged-type defenseman. He's a hard kid to play against."
Lennon blocked 54 shots last season to lead all returning Chargers.
"With juniors, you play around 60 games a season, but that doesn't really compare to what it's like at the college level," Lennon said. "It's just so much faster. There's less time and space. You have to be ready, physically and mentally, every night."
Newton was easily the most penalized Charger last season with 93 minutes in the box. His lone goal of the year lifted UAH to a 1-0 win at Michigan Tech.
Dayne Finnson logged 32 games as a freshman last year, meaning the returning sophomore group already has seen plenty of action at the college level.
"We're a pretty experienced group on the back end," Lennon said.
Other returning defensemen are senior Sean Rappleyea and junior Teddy Rotenberger.
Three freshman blueliners join the Chargers: Lucas Bahn of Hendersonville, Tenn., who had 17 assists with West Kelowna of the BCHL; Tanner Hickey, who scored 11 goals for Spruce Grove of the AJHL; and Max Coyle, who had 15 assists for Prince George of the BCHL.
"We have a good freshman group that'll be ready to play and make a contribution, like the group last year did," Lennon said.
Sophomore Jay Powell of Nashville becomes the first player from UAH's new club hockey team to join the varsity squad.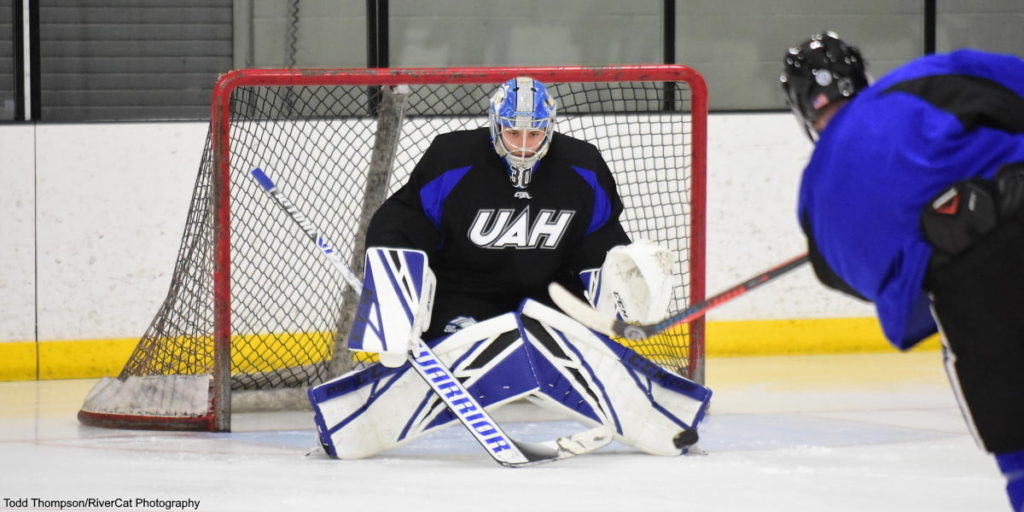 Goaltending
Mark Sinclair is coming off a breakout sophomore season. He played in 28 games, starting 26, posting a 2.89 goals against average and a .915 save percentage (fifth-best in the WCHA). He had two shutouts, the first Charger multi-shutout year since Scott Munroe had three in the 2004-05 season.
"My freshman year, I didn't play too much," Sinclair said. "I just watched Jordan Uhelski, and that helped out a lot, too. Having the opportunity to watch the game and see how quick it is. After that, I just tried to have a good summer and came back ready to play, getting more of a workload and be prepared for that.
"I had a little bit of an injury at the end of last year, so I did a lot of recovery stuff this summer. So far in training camp, it's been working with our goalie coach and getting back on the ice, trying to keep it basic and continue working on the same things I was working on last year and the previous summer."
"Mark's going to be big," Corbett said. "Mark got a lot of solid minutes for us. With potentially three freshman, three sophomores and a senior on our back line, he's going to be very important. It's great when you have a guy back there you can trust."
Two freshman goaltenders are joining Sinclair.
David Fessenden is big at 6-6 and 230 pounds. The Parker, Colo., native had a 2.74 goals against average and a .915 save percentage with the Northeast Generals of the NAHL.
George McBey just announced his commitment on September 3. McBey, who was committed to Division III Augsburg, had a 3.79 GAA and .908 save percentage in the NAHL last season, mostly with the Brookings Blizzard.
The season
The Chargers open the season on Saturday with a two-game set with UMass Lowell. Next week, UAH heads to Omaha to face the NCHC Mavericks.
"I like our matchups," Corbett said. "I like our energy coming out of the gate and I think we're going to be a heck of a lot more prepared. We're going to be more prepared than in years past.
"We're getting double the ice time and we're utilizing that to the best of our ability. The good part is our guys came in in pretty darn good shape, so we're excited about that."
UAH hosts WCHA favorite Minnesota State on Oct. 25-26 to open the home and conference schedule. The last non-conference series is at North Dakota on Jan. 3-4.
The question is how well this young team can handle the new style they want to play during UAH's typically-rigorous WCHA schedule.
"Are they going to handle that physically? We'll see," Corbett said. "We'll see after we start grinding through some of the season, but right now we're going to be able to skate with anyone."
Beaulieu, Lennon, and Sinclair feel positive about the makeup of the team.
"For team, we obviously can continue to get better, improve our record, and make the playoffs again," Beaulieu said. "Once you get into the playoffs, you never know what can happen."
"With the whole realignment thing, we'll just try and prove everyone wrong," Lennon said. "That's a big motivation for us."
"We feel pretty good," Sinclair said. "The guys look great. Everyone's snapping the puck around and moving their feet. I think we have pretty high expectations and we're hoping to have a breakout year as a team."
Photos by Todd Thompson/RiverCat Photography