After the most tumultuous offseason in program history, the UAH Chargers finally get back to the business of playing hockey.
The Chargers enter the abridged 2020-21 campaign with half the roster turned over, necessitated by the week in May when the program was cancelled and then revived. Several players from last season's squad transferred, meaning new head coach Lance West had spots available for 13 hungry freshmen.
"You've heard coaches in the league talk about players that were on our roster last year that are now on teams that are favored at the top." West said. "Those were tough losses, but our approach has been to move on and upward and fight with the kids we have.
"The kids here are doing an outstanding job. They're young, but sometimes when you're young, you don't know things. Their energy level and commitment has been exactly what we've wanted. They're working every day. Clearly we know we've got something to prove. That chip is as big as you could probably find."
With this much change, it's hard to predict how this season, which starts Saturday at Robert Morris, will turn out.
Expectations are not high after the Chargers finished last season with only two wins and all the aforementioned changes. UAH finished last in the WCHA media and coaches' preseason polls.
Complicating matters is the COVID-19 pandemic, which has already cancelled the season for eight Division teams (including Alaska Anchorage). UAH's schedule has been reduced to 21 games (16 WCHA games), with only seven at the Von Braun Center, which will be limited to 30 percent capacity and other restrictions.
"I don't think that there's any secrets to where we're at, but we're thankful for the opportunity," West said. "We know the challenge that's ahead of us. When we recruited all these young men we told them that. They're taking it face on and we're excited to try and prove something and set a culture in the program back to where we believe it should be."
Here is a look at the 2020-21 UAH Chargers.
Forwards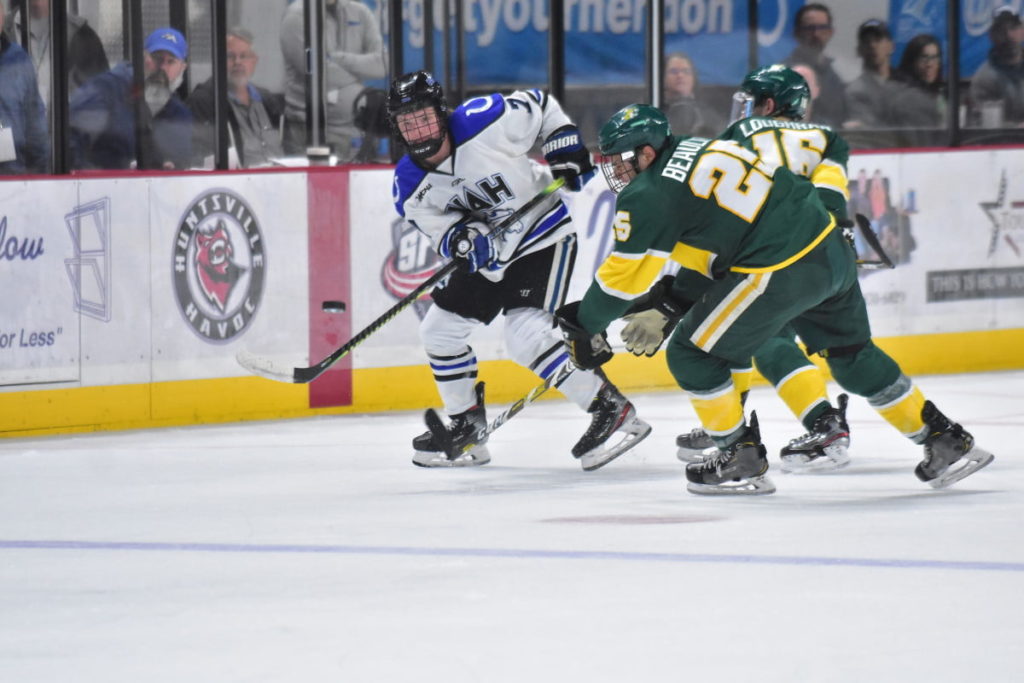 Scoring was a chore last season, as the Chargers averaged just 1.68 goals per game (last in the WCHA). The top seven point scorers from 2019-20 are gone.
So for this season, the Chargers will be looking for, as West puts it, "scoring by committee."
"I don't think we're going to be talking about guys who lead the league, but I think we're going to be a committee," West said. "I think they guys have bought into that."
Committees still need leaders, starting with Bauer Neudecker, who is looking for a rebound junior year. He was shut out of the net last season after a seven-goal freshman campaign.
"Just a smart hockey player," West said. "He's an impressive young man, one of the kids who came every day. Never quit, never changed how he approached things. He had to have surgery in the offseason, came back and just every day is a professional."
The same goes for the team's two seniors, Connor Merkley and Connor Wood. Merkley, one of the top returning scorers, had eight points, while Wood scored four goals last season, showing continued growth heading into his senior year.
"They're committed to this program and helping us change and grow the culture," West said.
Tyr Thompson, who had six goals last season, and Ben Allen, who scored a goal in 16 games, are the other juniors.
"Those two guys have shown a lot in practice that they are going to be able to step up and help us score by committee this year, which is what we're going to have to do," West said.
Among sophomores, Peyton Francis worked his way into the lineup as a freshman last season and netted a couple of assists. Adrian Danchenko, like Allen, also had a goal in 16 games.
There are more freshmen (eight) than returning players (seven), which means they will have plenty of opportunities to contribute immediately.
Tyrone Bronte, an Australian, posted over a point per game at Wilkes-Barre/Scranton (NAHL) before the pandemic stopped the season.
Jonah Alexander was a first-team OJHL all-star after a 78-point season with the St. Michael's Buzzers. Frank Vitucci also comes from the OJHL, scoring 67 points with Wellington.
"I think they can really add some offense to us," West said. "Obviously as freshmen you know they'll have some ups and downs and struggles, but we're excited about what they can bring. They've had the right attitude."
Noah Finstrom had 42 points in 54 games with Jamestown (NAHL) last season. Quinn Green comes to Huntsville after back-to-back 39-point seasons with Topeka of the NAHL. Bennett Stockdale, the alternate captain for Johnstown (NAHL), had 42 points in 50 games last season. Conor Witherspoon was second leading scorer (35 points) for Shreveport. Nick Michel had seven goals in 32 games with Janesville of the NAHL last season.
Returning (7): Ben Allen (Jr.), Adrian Danchenko (So.), Peyton Francis (So.), Connor Merkley (Sr.), Bauer Neudecker (Jr.), Tyr Thompson (Jr.), Connor Wood (Sr.)
Losses (7): Austin Beaulieu (graduated), Liam Izyk (transferred to Boston College), Jack Jeffers (transferred to Lake Superior State), Daneel Lategan (transferred to Alberta), Josh Latta (transferred to UMass Lowell), Christian Rajic (transferred to Long Island), Brandon Salerno (graduated)
Newcomers (8): Jonah Alexander, Tyrone Bronte, Noah Finstrom, Quinn Green, Nick Michel, Bennett Stockdale, Frank Vitucci, Conor Witherspoon
Defensemen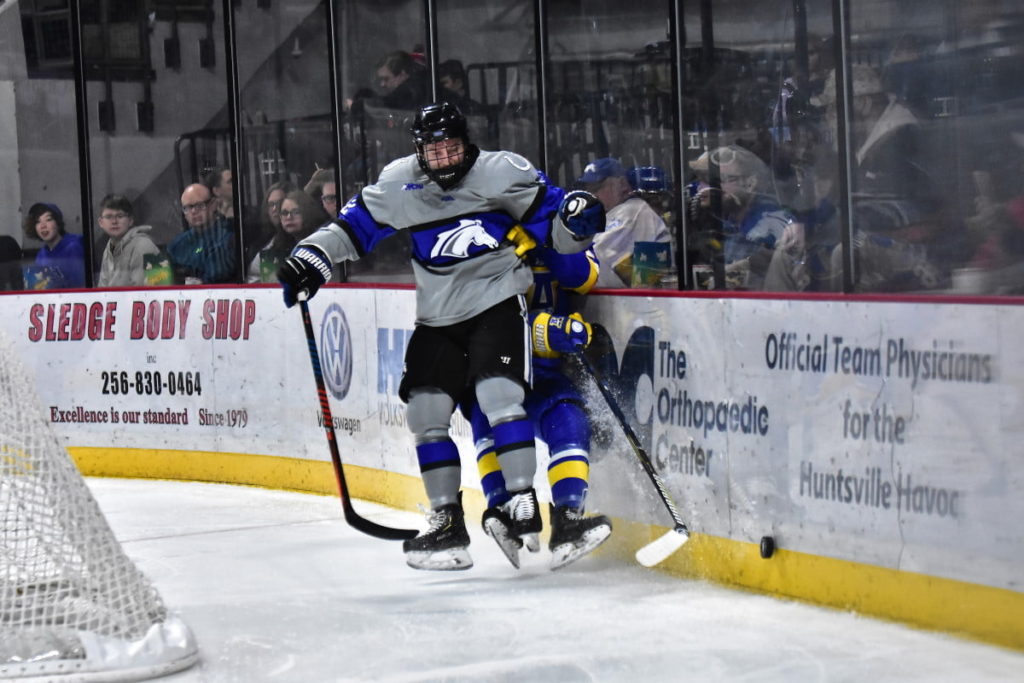 The Chargers also struggled on defense last season, allowing a WCHA-worst 4.26 goals per game. UAH lost its top four shot blockers, but have retained some experience and added some size.
"There's three guys returning who have played a lot of minutes," West said. "They're extremely quiet and calm, the kind of guys you don't notice."
West referred to two returning juniors in Dayne Finnson (a goal and six assists) and Drew Lennon (two assists) to provide some experience. Tennessee-native Lucas Bahn became a lineup regular as a freshman last year, scoring a goal and three assists.
"They have all played a lot of minutes the last couple of years. We have those guys to lean on and I think they're solid contributors and will be really good Division I defensemen. They will surprise some people in my opinion."
West said that freshmen Ayodele Adeniye and Brian Scoville bring size to the back end. Adeniye, the only commit to stay a commit when the dust settled, is a highly-rated 6-foot-5 freshman joining Carleton Place (CCHL) alums Francis and Merkley. Scoville clocks in at 6-foot-3 and 215 pounds.
"They're going to be hard, they're going to be heavy, and they're going to be tough to play against," West said. "I think they give us at least as solid foundation on the backend to build with."
Mick Heneghan, another freshman, had 37 points with the Northeast Generals last season. Josh Corrow was most recently the alternate captain for the Whitecourt Wolves of the AJHL, notching 15 assists in 57 regular-season games. Another Tennessean, junior Jay Powell, is the tallest Charger at 6-foot-7.
Returning (4): Lucas Bahn (So.), Dayne Finnson (Jr.), Drew Lennon (Jr.), Jay Powell (Jr.)
Losses (6): Max Coyle (transferred to Bowling Green), Tanner Hickey (transferred to Arizona State), Connor James (graduated), Bailey Newton (transferred to Western Ontario), Sean Rappleyea (graduated), Teddy Rotenberger (graduated)
Newcomers (4): Ayodele Adeniye, Josh Corrow, Mick Henegan, Brian Scoville
Goaltenders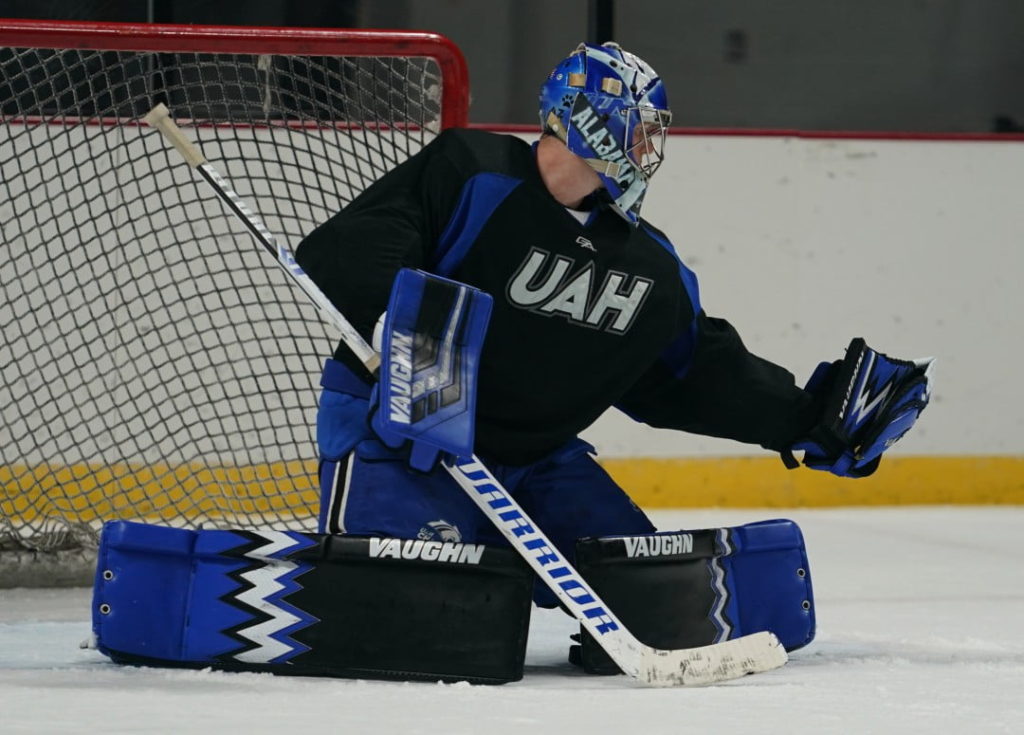 Mark Sinclair, who made 30 starts in net for the Chargers in 2019-20, has transferred to Michigan Tech, meaning UAH will have a new No. 1 between the pipes.
"That's clearly going to be one of our biggest challenges," West said. "David Fessenden returns as sophomore, a big 6-foot-6 kid that has a lot of athletic ability and upside, and has to prove it."
Fessenden (4.44 goals against average, .869 save percentage) was the only other goalie to see action last season. He played in seven games and started four, with his best outing being a 37-save performance at UMass Lowell.
Freshman Derek Krall had a .917 save percentage and 2.62 goals against average in 30 regular-season games in the BCHL last year.
"Derek Krall was the MVP of his team in Powell River and spent a couple of years in Pentincton where he was behind really high-end goaltenders," West said. "I believe (Krall) can push and will develop into a really solid Division I goaltender for us, so I'm a bit more excited about that position and the competition that's there."
George McBey, a 6-foot-2 sophomore, is the other returning netminder who did not see action last season.
Top photo by UAH Athletics: Defenseman Ayodele Adeniye is one of 13 freshmen on this year's team.